Early Postpartum Recovery
By Kelsey Valentine, Pelvic Health Physiotherapist with Compass Rose Wellness, in Komoka, Ontario.
Let's face it: having a baby is no walk in the park! It is both physically and emotionally challenging and requires some planning to bargain a smooth recovery.
Here are some tips that may help you navigate the recovery from bringing a baby into the world!
1. Rest & Recover
7 days in the bed
7 days around the house
7 days around the block
*give or take: this may not be realistic/practical (especially if you have other wee ones running around), but can be used as a loose guideline.
Note: "In the bed" can still include some movement to help avoid risk of blood clots & build the foundation for good core and pelvic health
For example, ankle pumps, belly breathing, gentle pelvic floor contractions, etc.
See here for some examples
2. "Peri" Bottle
Peri = short for "perineum", which is the tissue between the vaginal opening and the anus
If you use while peeing, it can help to reduce burning and stinging by diluting the urine. With or without stitches, this area can be tender and swollen.
1. Fill with warm water
2. Point opened tip towards perineum/urethra
3. Squeeze bottle to squirt water
4. Pat the area dry with a towel or toilet paper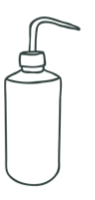 3. Padsicles
Pads meets icicles (or popsicles???). Either way, it's heavenly.

Unwrap a sanitary napkin or pad, and lay it on top of a sheet of aluminum foil. The back of the sanitary napkin will stick to the foil. Remove the adhesive paper tabs from the sanitary napkin to fully open it.
Squeeze unscented 100% pure aloe vera gel generously all over the sanitary napkin.
Pour/spray alcohol-free witch hazel over the pad.
Fold the aluminum foil over the pad, and then place the wrapped pad in the freezer for at least an hour.
4. Sitz Bath
"Sitz bath" comes from the German word "sitzen," which means to sit
This will feel soothing for your nether-regions

Fill a clean tub/sitz basin up ~2-3 inches with warm or cool water
You may add Epsom salts, baking soda, or witch hazel for extra relief (not mandatory)
Soak once per day for 20 mins
When done, pat the area dry with a clean towel or blow dryer on "cool" setting
<b>5. Your first poop</b>
Yep, we are going there.
This can be scary, especially if you had perineal tearing & ESPECIALLY if constipated!
Get on top of any constipation before baby arrives!
25-35 grams of fibre per day
1/2 oz of water per pound of body weight you are

Take the stool softener.
Use a stool under your feet!
Focus on your breathing and don't push or strain!
Don't ignore the urge to go (otherwise it may come back with a vengeance!)
<b>6. Returning to Exercise</b>
Approach your return to exercise postpartum in the same way you would approach returning to exercise from an injury.
Follow the guidance of a pelvic health physiotherapist/postpartum fitness specialist, when able
Wait for body to heal (~6 weeks)

Build the foundation
deep core, pelvic floor, and breathing exercises early on

Start very gradually & build up slowly
Hold off on high impact until ~3 months/ideally get clearance from a PT
7. Nutrition for Healing
Eating nutritious foods, but also eating ENOUGH food for proper tissue healing
Prepare/plan healthy meals and snacks in advance
Freezer meals
Meal drop-offs from family & friends
Ask for gifts cards for easy/healthy meal prep options in your registry for gifts

Focus on getting a variety of vitamins/minerals (lots of variety in colour on your plate!), plenty of WATER, fibre-rich foods, whole grains, nuts, seeds, and protein-rich options.
See a Registered Dietitian for specific concerns!
8. Mental Health
Baby blues may be common in the first couple of weeks, but consider…
Postpartum depression is not the only change to your mental health that can occur.
Postpartum anxiety
Psychosis
OCD
Rage
PTSD
May also occur, and are something to know the signs and symptoms of to seek appropriate help.
You don't need to wait until your 6-week postpartum check-up to seek help from a health care provider.
This season is tough; you are doing an amazing job!
9. Social Support
When they say "it takes a village", trust them! Find your people.
Set appropriate boundaries with friends and family as you recover (and forevermore!)
Use trusted health care providers as additional support: pelvic floor physiotherapists, lactation consultants, social workers, counsellors, medical and naturopathic doctors, dieticians, exercise professionals, registered massage therapists, yoga instructors, paediatric physiotherapists, etc!
10. 6-week Check-Up
ACOG (The American College of Obstetricians and Gynecologists) now recommends that:
postpartum care should be an ongoing process, rather than a single encounter
services and support should be tailored to each person's individual needs
those who gave birth should have contact with their OB-GYN within the first 3 weeks postpartum

My humble opinion: ALL women should see a pelvic floor physiotherapist as part of their postpartum care to set them up for long-term success!
Remember, most importantly, YOU'VE GOT THIS. You're doing amazing! You are the best parent for this tiny human. Enjoy!
The above is an informative summary written by Kelsey Valentine, who is a member of our Pelvic Health Physiotherapy team at Compass Rose Wellness Centre, just West of London Ontario. Kelsey practices Orthopaedic and Pelvic Floor Physiotherapy at Compass Rose Wellness Inc in Komoka, ON.
Kelsey holds both an Honours Bachelor of Science degree in Kinesiology and a Master's of Science in Physiotherapy from Queen's University. Kelsey is rostered with the College of Physiotherapists of Ontario to perform internal pelvic exams and is a member of the Women's Health Division with the Canadian Physiotherapy Association.
Although she loves working with any individuals experiencing bladder, bowel, sexual, and pelvic pain concerns, Kelsey has a specific interest in helping those through their pregnancy and postpartum journey. Whether someone is experiencing pain or bladder leakage that is holding them back from their usual activities or wanting to learn more about preventing pelvic floor and core issues associated with birth, Kelsey is here to help!
Outside of work, Kelsey loves to be on the move! She can be found walking her dog (Ziggy), hiking, figure skating, jogging, or doing HIIT/strength classes. She also enjoys spending time doing anything related to food & things that make her laugh!
If you are interested in connecting with Kelsey, you may book an appointment with her! She also provides free education on her Instagram @kelseyvalentinept.